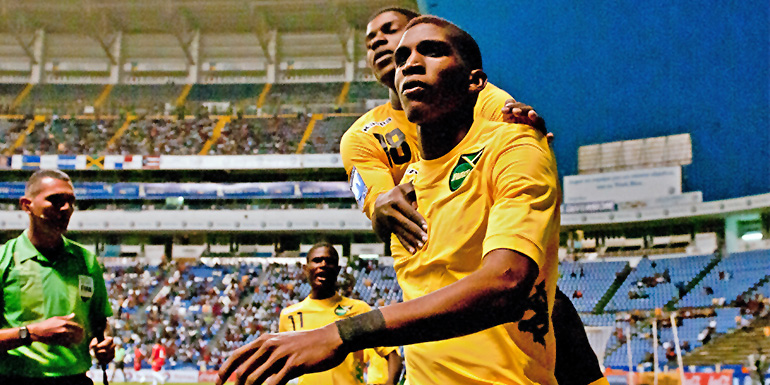 CONCACAF experience prepares Lowe for MLS duty
Published on
/ Updated on at
Damion Lowe celebrates after scoring for Jamaica in a 4-1 win over Puerto Rico at the 2013 CONCACAF Under-20 Championship. (Photo: Mexsport)
GEORGE TOWN, Cayman Islands -- Damion Lowe is certain that nerves won't be a factor when he suits up for the Seattle Sounders in the upcoming season.
The Jamaica youth international was drafted eighth in the 2014 Major League Soccer (MLS) Super Draft by the Sounders after a successful three-year stint with the University of Hartford in the United States.
A veteran of the 2013 CONCACAF Under-20 Championship, where he scored in a 4-1 win over Puerto Rico, Lowe told CONCACAF.com that the experience of competing in that tournament will help him in MLS.
"When I was in Mexico with the U20 team we had like 50,000 per game," said Lowe, who goes to a team that broke its own MLS record last year with an average attendance of 44,038.  "I am used to that right now.  The fans in Jamaica are like 50,000 even if they are 100 there."
The 6-foot, 3-inch defender carries the build of his father Onandi Lowe.  A dominant Jamaican striker in the 1990's, the elder Lowe played for the Kansas City Wizards (now Sporting Kansas City) in MLS and in Europe.
Lowe expressed his excitement at carrying on the family tradition.
"It's a dream come true," he said.  "Words can't explain how I feel.  As a kid I wanted to play professional soccer, my dad in the MLS and in Europe, and I always wanted to follow in his footsteps.
"Now that I have made that jump it's a great feeling." 
On Seattle, the 20-year-old has great expectations.
"I am looking forward to great things," commented Lowe.  "I have to attack this in a positive way, getting into pre-season and working hard as a rookie.  This is my new family and I have to get to know my new home and I am looking forward to getting some playing time this season.
"I am always a winner. It doesn't matter what program I go into, I put forth my best effort."
With his confident approach, expect Lowe to excel as he enters the professional phase of his career.