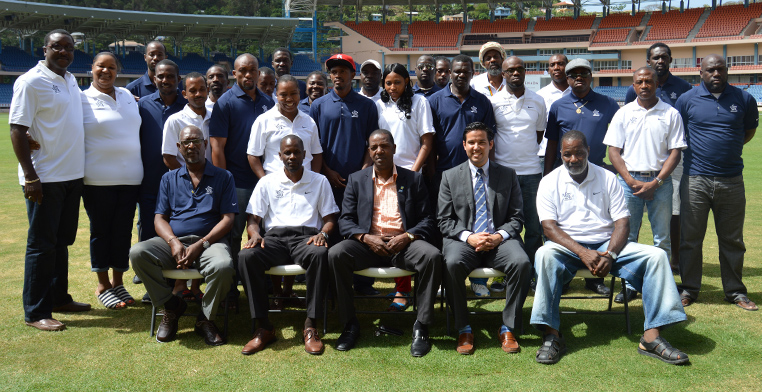 CONCACAF Club Licensing Seminar educates, motivates in Grenada
Published on
/ Updated on at
(ABOVE) Attendees of the CONCACAF Club Licensing Seminar held May 9-11, 2015, in Grenada, gather for a group photo.
ST. GEORGE'S. Grenada -- CONCACAF's Club Licensing Department successfully conducted a three-day seminar this past weekend in Grenada. Held in partnership with the Grenada Football Association (GFA), the workshop was designed to educate federation, league and club stakeholders about the Club Licensing System, while providing the 40 participants with the tools and knowledge for effective implementation locally. 
After a productive first day of discussions with the GFA regarding the components and benefits of Club Licensing, the Opening Ceremony was conducted on Saturday with federation officials and course participants in attendance. CONCACAF Club Licensing Manager Andres Portabella then presented the CONCACAF Club Licensing System, focusing specifically on the following crucial elements: 
 Vision of the Club Licensing Project 
Current Assessment of the Region and Support Tools 
Implementing Club Licensing Locally and Regionally 
Club Licensing Requirements for Clubs 
Timeline for Implementation 
This first session also highlighted the assistance being provided by CONCACAF to leagues and clubs in Grenada and around the region, including templates for Club Licensing documents, the Beyond the Pitch Series, Case Studies, the League and Club Guides, a Club Football Annual Report, and tailored Seminars on specific topics. Each of these development tools was well-received by participants, and interactive discussions took place regarding the current situation and future path for football clubs in the country. 
On Sunday, an innovative session was designed for the participants, as the football clubs' representatives were given the opportunity to simulate the proper procedures and protocols for executing a football match. After being assigned various roles and responsibilities, the attendees conducted a Match Coordination Meeting and then proceeded to follow all elements of "The Countdown" – CONCACAF's operating procedures for all Scotiabank CONCACAF Champions League matches.  
With the assistance of two local U15 boys' teams in Grenada, the match was successfully planned and carried out. To complete the process, a set of online reports were provided to the GFA and participants in order to assist with the documentation of these matches moving forward. 
Through a combination of classroom and practical seminar sessions, the GFA is now fully prepared to implement the Club Licensing System in Grenada in 2016, and CONCACAF looks forward to continuing to assist the federation with this important initiative.