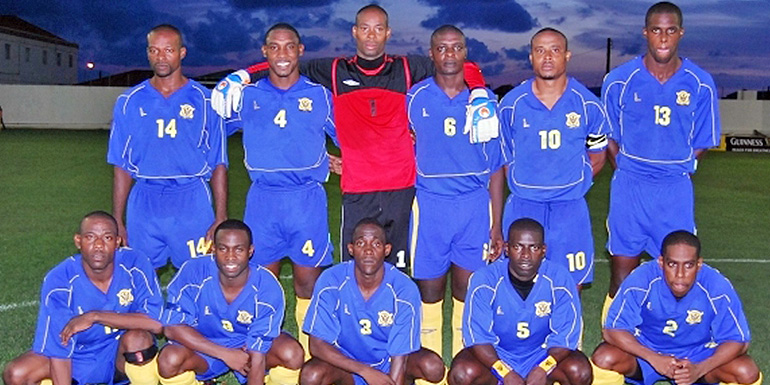 Barbados prepares to face Jamaica
Published on
/ Updated on at
Barbados (pictured) poses for a team photo before a match against St. Kitts & Nevis on October 6, 2010. (Photo courtesy of Digicel)
FONTABELLE, Barbados -- It's been a long time since it has stepped on the pitch – 17 months to be exact – but Barbados will return to action on Sunday against visiting Jamaica at the National Stadium.
The last time the Bajans played a competitive match, they defeated Aruba, 2-1, on September 27, 2012.
At a press conference earlier this month, Barbados head coach Colin Forde signaled he would be fielding a young squad, mostly comprised of players from the Barbados Premier League.
"The team have been training quite well so I'm happy with the turnout at this time," Forde expressed. 
While Forde said he's pleased his players have remained active in 2013 in terms of club competitions, he understands the challenge of facing the Reggae Boyz is a large one.
"Let's be honest, Jamaica is the No. 2 team I would say within the region with Trinidad probably being the No. 1 team," Forde noted.  "If you look at the history of Jamaica, five-time Caribbean champions, they're ranked 80th at this time in the FIFA ranking, in CONCACAF they're ranked probably around eighth, so this is a big test for us."
Considering the inactivity and relative inexperience of his team, Forde's expectations are somewhat tempered.  A tie would be acceptable.  A win would be great. 
"Hopefully on the day we will apply ourselves and we will give a good performance," Forde concluded.
BARBADOS ROSTER
(International friendly: March 2, 2014, home v Jamaica) 
GOALKEEPERS:  Jason Boxill, Kerry Holder, Bentley Springer
DEFENDERS:  Andre Bourne, Akeene Browne, Romel Burgess, Teriq Highland, Ramar Miller, Ramuel Miller, Ricardio Morris, Zico Phillips
MIDFIELDERS:  Diquan Adamson, Jamal Chandler, Carl Joseph, Ramario Harewood, Jomo Harris, Rahiem Sargeant, Rashida Williams
FORWARDS:  Jabarry Chandler, Mario Harte, Armando Lashley, Chai Lloyd