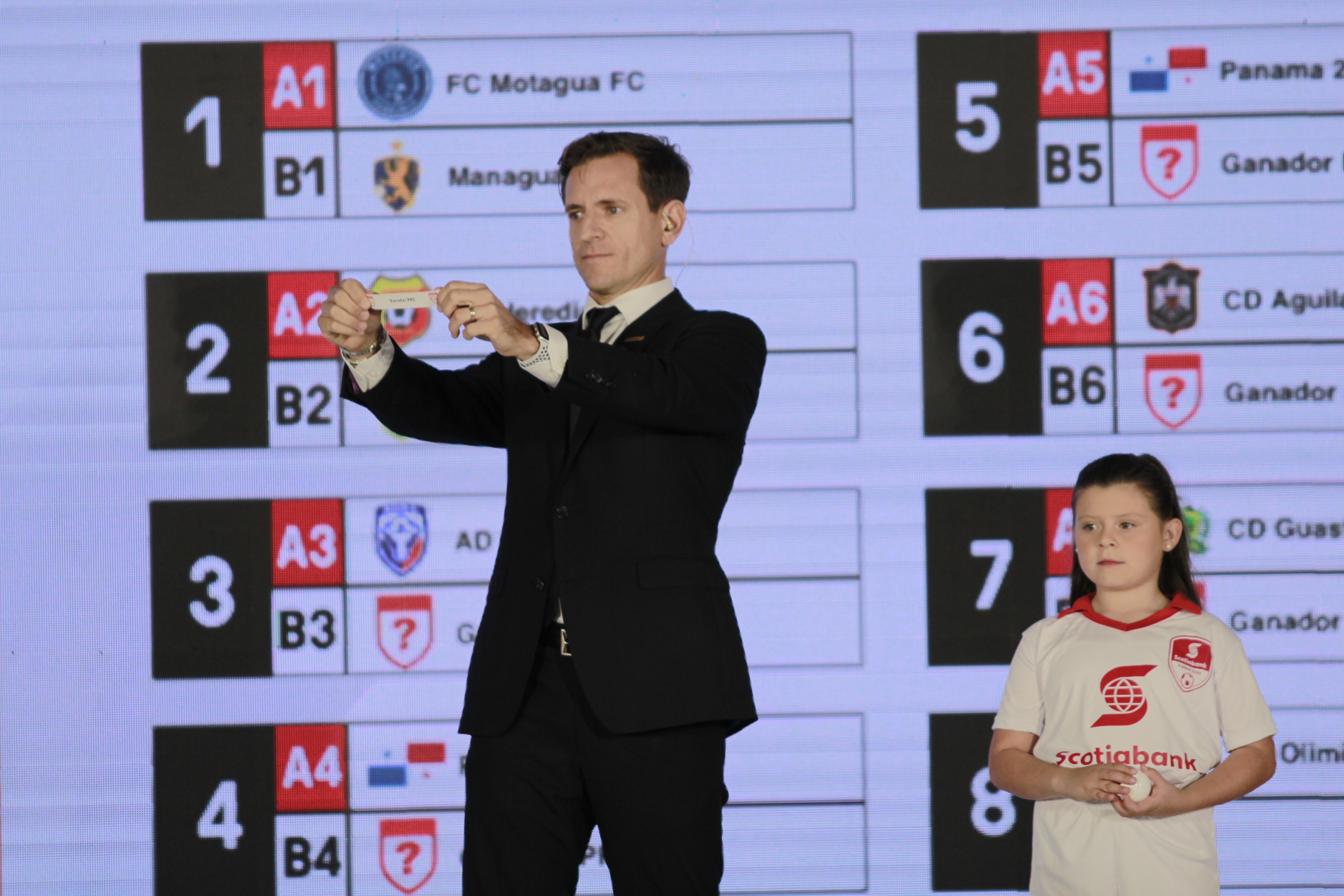 Draw Delivers Matchups for the 2019 Scotiabank Concacaf League
Published on
/ Updated on at
The expanded competition now includes the participation of the Central American domestic league winners and a Canadian representative

Miami (Thursday, May 30, 2019) – The Confederation of North, Central America and Caribbean Association Football (Concacaf) today conducted the official draw for the 2019 Scotiabank Concacaf League, at the Hotel Gran Tikal Futura, in Guatemala City, Guatemala.

The gala event, which sorted the 22 participating clubs into six preliminary round matchups and eight round of 16 matchups, featured welcoming remarks from Concacaf General Secretary Philippe Moggio. Concacaf Chief Football Officer Manolo Zubiria conducted the draw. The captain of reigning Scotiabank Concacaf League champions CS Herediano, Pablo Salazar, presented the trophy.

The six preliminary round pairings are as follows:

Matchup #1: Panama 3 vs Alianza FC (SLV)
Matchup #2: AS Capoise (HAI) vs S.V. Robinhood (SUR)
Matchup #3: Deportivo Saprissa (CRC) vs Belmopan Bandits (BLZ)
Matchup #4: Antigua GFC (GUA) vs Canada 2
Matchup #5: CD Marathon (HON) vs Comunicaciones FC (GUA)
Matchup #6: Santa Tecla FC (SLV) vs Real Esteli FC (NCA)

The eights round of 16 parings are as follows:

Matchup #1: FC Motagua (HON) vs Managua FC (NCA)
Matchup #2: CS Herediano (CRC) vs Waterhouse FC (JAM)
Matchup #3: AD San Carlos (CRC) vs Winner Preliminary Round #6
Matchup #4: Panama 1 vs Winner Preliminary Round #1
Matchup #5: Panama 2 vs Winner Preliminary Round #2
Matchup #6: CD Aguila (SLV) vs Winner Preliminary Round #3
Matchup #7: CD Guastatoya (GUA) vs Winner Preliminary Round #5
Matchup #8: CD Olimpia (HON) vs Winner Preliminary Round #4

The Scotiabank Concacaf League will continue to be played in a knockout format with home-and-away fixtures, with 12 clubs participating in a preliminary round. The winners, to be determined on aggregate goals, will join the top nine ranked Central American clubs and the runner-up of the Caribbean Club Championship in the Round of 16.

In addition to qualifying its champion to the Scotiabank Concacaf Champions League, the tournament now qualifies an additional five teams. At the end of the competition, clubs will we ranked in accordance with the competition tie-breaking procedure, with the top five clubs joining the champion in the 2020 edition of the Scotiabank Concacaf Champions League.

The full schedule, including kick off times and venues, will be announced in the coming days. Fans will be able to follow all the action through the Confederation's partner networks, including Univision Deportes (United States), Yahoo Sports (United States), Fox Sports Latin America (Mexico & Central America), TSN (Canada), Flow Sports (Caribbean) and other local partners. For other territories, the tournament will be available on Concacaf GO (subject to territory restrictions).