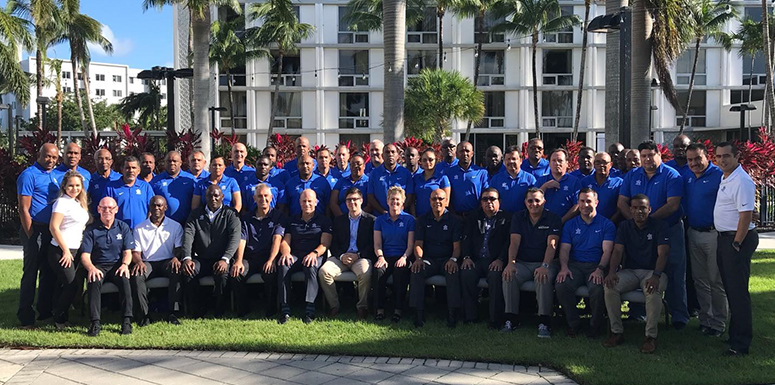 CONCACAF Completes First Head of Refereeing Workshop
Published on
/ Updated on at
Head of Referees from 34 CONCACAF member nations participated in the Head of Refereeing Workshop held in Miami, Florida last week.
CONCACAF hosted its inaugural Head of Refereeing Workshop in an effort to further develop Member Associations Referees Departments, while providing an opportunity to exchange best practices and guidelines to achieve an effective and efficient operation. 
Head of Referees from 34 member nations participated in the 3-day interactive workshop held last week in Miami, Florida.
The session included presentations on the ideal structure of Referee Departments, the profile of the CONCACAF Elite Referee, the use of ONE CONCACAF Program and FIFA Forward funds to support the referee area, as well as the Confederation's plans and programs for 2018 and beyond. 
"This inaugural Heads of Refereeing Workshop served as an educational platform to share best practices with each CONCACAF Member Association," said CONCACAF Director of Refereeing, Brian Hall. "It provided participants with tools to assist Heads of Referees in directing and developing their domestic teams to achieve excellence."
Participants received specially tailored training from the Chairman of the CONCACAF Referee Committee Mario Monterrosa, FIFA Technical Instructors Esse Baharmast and Peter Prendergast, FIFA Fitness Instructor, Alan Brown, as well as the Confederation's representative on the FIFA Referee Committee, Sandra Hunt.
Speaking about the course, the Head of Refereeing of the Bahamas Football Association stated: "This CONCACAF workshop is very successful as it will benefit all Member Associations by providing vital information and direction on how to instruct and assess match officials development. In addition to the necessary actions to achieve excellence in refereeing."
The Head of Refereeing at the National Autonomous Federation of Football of Honduras, Pedro Rebollar highlighted the importance of the workshop.
 "It is the first time that we meet to discuss key areas for the development of referees at the local level, while establishing a clear goal for our departments. ONE CONCACAF is a solid platform that promotes solidarity across our Member Associations. Together, referees can take their game to the highest level."