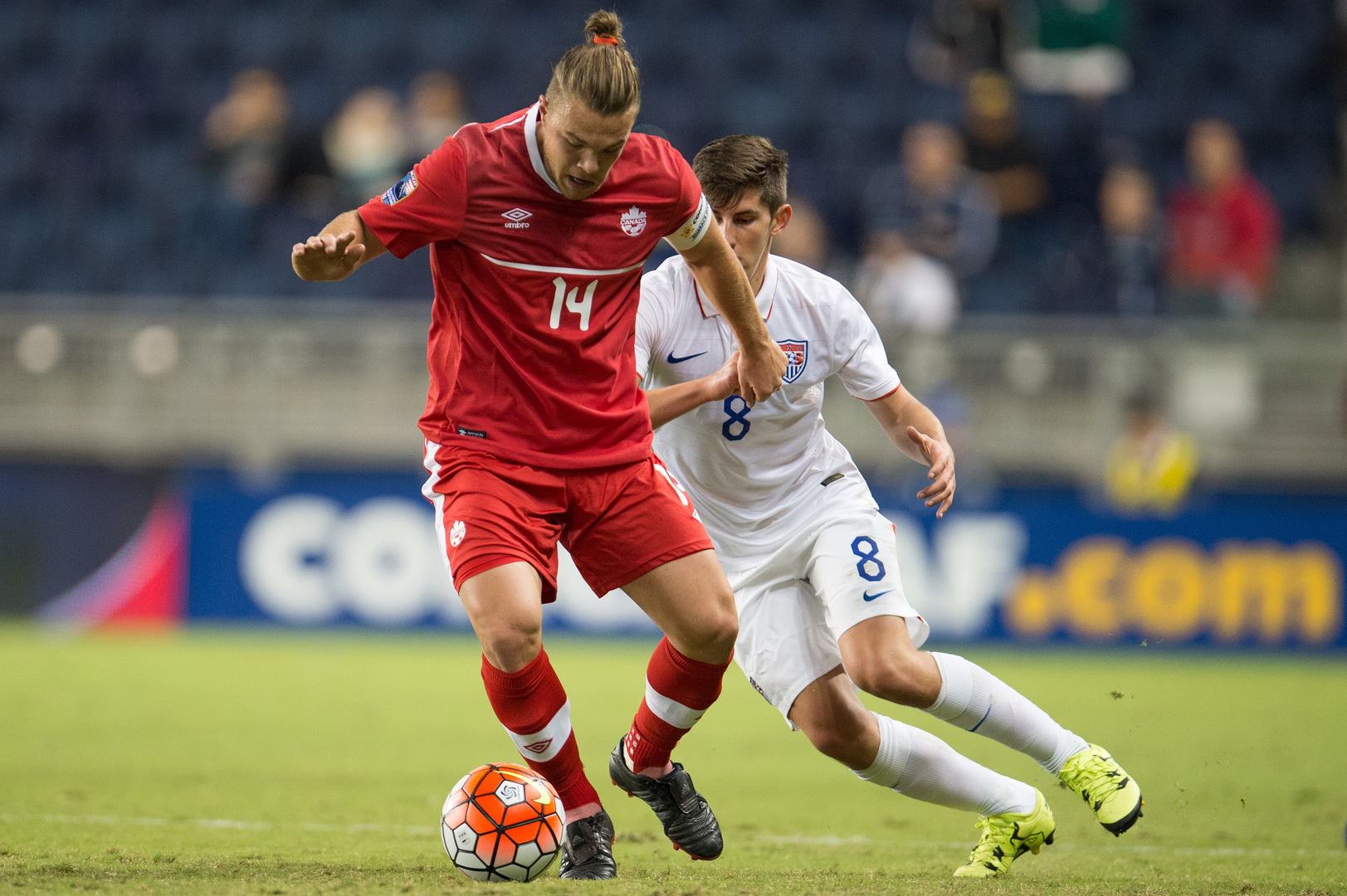 Piette recalls 2-0 win vs. U.S.: "It gave us belief"
Published on
/ Updated on at
MIAMI, Florida – For any national team hoping to reach an elite level, there comes an inflection point in their journey to the top. Before it is all said and done, that particular moment for the Canadian Men's National Team may have come in October 2019 in a League A match of the 2019-20 Concacaf Nations League against the United States at BMO Field in Toronto.
Just months after a disappointing quarterfinal 3-2 quarterfinal defeat to Haiti in the 2019 Concacaf Gold Cup in which they led 2-0 in the second half, Canada reversed their fortunes with an emphatic 2-0 win against the U.S., their first against their southern neighbors since 1985.
For those who took part in it, like Canada MF Sam Piette, it was a pivotal match in their evolution as a National Team program.
"That game gave us belief and helped us realize that we were a good team, that we have good players, that we can compete with good nations," said Piette in an exclusive interview with Concacaf.com.
"I remembered we prepared really well for that game, we had at least a week together in Toronto. We had a new game plan, playing a 4-2-2-2. It was the first time that we used that system. It was a massive game and a massive win," added Piette.
From the opening whistle, Canada took the game to the U.S. and the discomfort felt by the U.S. players due to Canada's pressure was evident with every passing minute.
"One hundred percent we could sense frustration from the U.S. We didn't want to be dominated in terms of ball possession, we didn't want the U.S. to impose their rhythm. We changed our approach in terms of pressing and intensity. We wanted to be on the front foot and you could see that they were trying to find their rhythm. They were used to being all over Canada and having the ball and being comfortable. You could feel that wasn't the case," said Piette.
It led to a key three-minute stretch in the second half in which star U.S. attacker Christian Pulisic was substituted off in the 60' and Canada's Alphonso Davies broke the deadlock in the 63' to give Canada a 1-0 advantage.
"I think we were surprised with Pulisic being subbed off, but to be honest, in my opinion, we didn't really see him much in the first half. I think we managed him well. Most of the guys who touched the ball for them were their center backs and their goalkeeper. They didn't do that much in the first half and when you're an attacking player and you can't get on the ball and find your rhythm, you get frustrated.
"I think [U.S. Head Coach Gregg] Berhalter tried to make a tactical change by bringing on something different. It didn't affect the game and then us scoring right after that gave us a boost. We raised our level of intensity even more. When we smell blood, we bite and that's what we did perfectly throughout the entire game," said Piette.
Lucas Cavallini's goal in second half stoppage time cemented the win, giving Canada a historic victory, whose significance was felt in the days to come.
"It was a party in Toronto and right after the game you just want to celebrate that win. You really don't look at the big picture of how that win could affect the country and the program, but a couple days after you realize that it was the first time that we had beaten the U.S. in many years. We gained respect in the eyes of other teams in Concacaf, especially in the eyes of the U.S. It was the first page we wrote in the storybook of this new program with John Herdman, but we knew it was only the first page and that there were many more pages to be written," said Piette.
On a personal level, Piette, who played all 90 minutes that night, appreciates the fact that he played a role in Canadian soccer history.
"I'm happy that my name can be in an article like that and hopefully I can read that article to my son later when he's older and show him pictures and videos of that. Maybe he'll be a soccer fan, maybe not. I really don't care to be honest. But if he is and he's paying certain attention to soccer in Canada, I can show him that I played a certain part in writing the history of the sport in this country," said Piette.
Since that night, Canada and the U.S. have squared off in official competition three times, with the U.S. winning 4-1 in the return match in the 2019-20 CNL, plus a 1-0 win in the 2021 Gold Cup group stage before a 1-1 draw in their WCQ in Nashville, Tennessee.
On Sunday, January 30, the two nations will renew acquaintances on Canadian soil for the first time since that October 2019 night and Piette expects another fierce battle between the North American rivals.
"I think it's going to be a really good game. I think the intensity will be there and something you'll always find when Canada plays the U.S. I think we saw that in that game in 2019, we saw that in the Gold Cup against them. They are up there with us in the table, so we'll be fighting to stay in number one spot if we are still there after the game in Honduras. The intensity will be there for sure," concluded Piette.