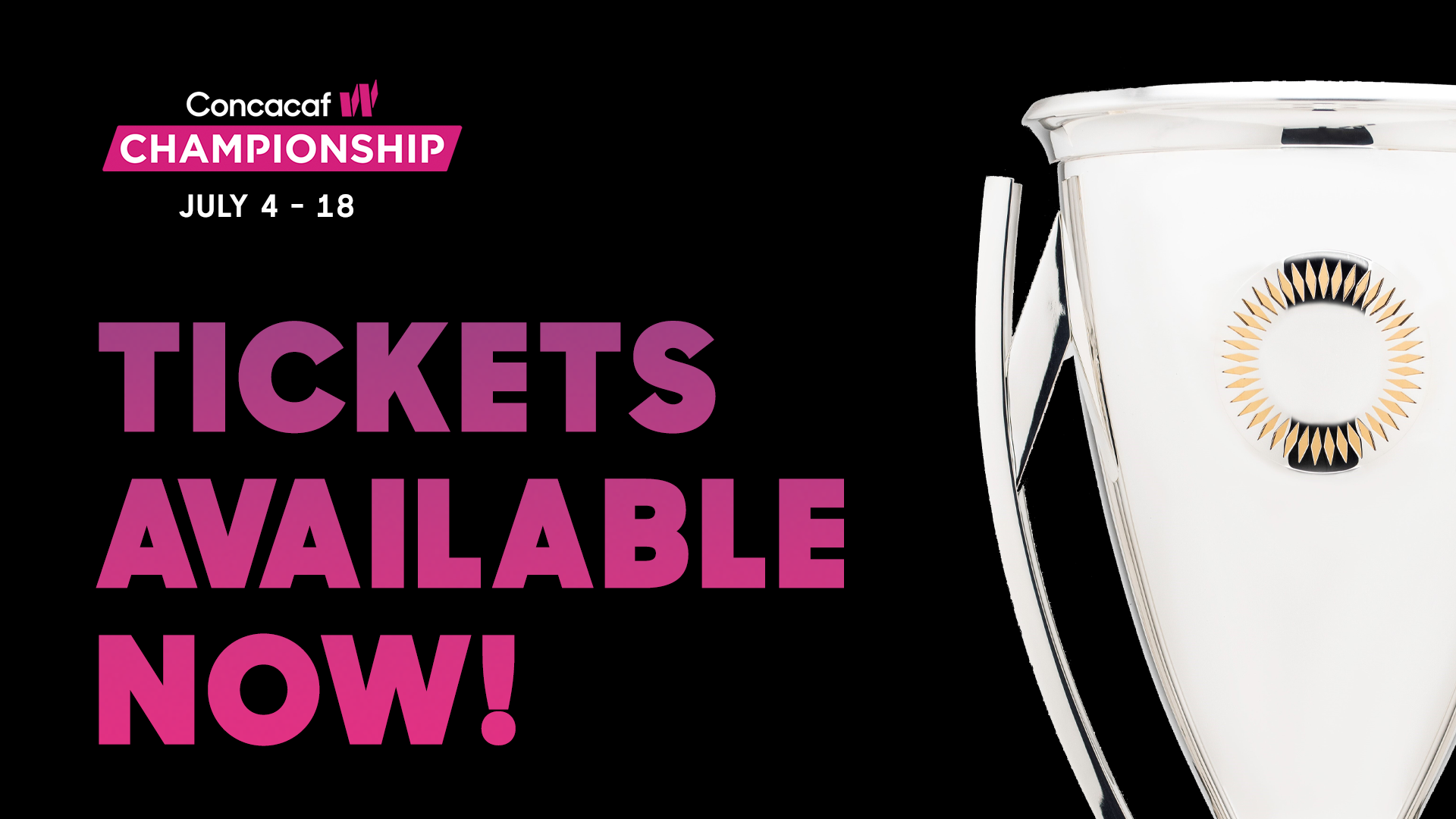 Tickets to all 2022 Concacaf W Championship matches now on sale
Published on
/ Updated on at
Eight of the region's best women's senior national teams will play for regional supremacy and an opportunity to compete in the 2023 FWWC and 2024 Summer Olympics
Tickets to all matches, including the Final on July 18, are available by visiting www.concacaf.com/concacaf-w-championship-tickets
Miami, FL - Concacaf and the Mexican Football Federation (FMF) have announced that tickets to all 2022 Concacaf W Championship (CWC) matches are now on sale to the general public. The summer tournament is scheduled to be played July 4-18, 2022, at the Estadio Universitario and Estadio BBVA, in Monterrey, Mexico. 

Tickets to the 2022 CWC are available by visiting www.concacaf.com/concacaf-w-championship-tickets. Between May 20 and June 5, fans can purchase stadium series tickets. For Estadio Universitario, the stadium series includes all group stage matches, while for Estadio BBVA it includes all match dates (including the Final). 

Starting on June 6, individual match day tickets, including the semifinals and final, will go on sale (two matches a day in a single venue).

Fans are encouraged to visit Concacaf.com to secure their preferred seats. 

Fans will be able to follow and enjoy the competition through the Confederation's TV partner networks, including CBS | Paramount + (USA-English), TUDN | ViX (USA-Spanish), One Soccer (CAN), ESPN | Star+ (Mexico, Caribbean, Central America, and South America), and multiple partners around the world. For other territories, the event will be available on the Official Concacaf App (all subject to territory restrictions).

This revamped CWC is a key part of the Confederation's new women's senior national team ecosystem taking place from 2021 through 2024. It will serve as the region's final round of qualifying for the FIFA Women's World Cup Australia and New Zealand 2023 (FWWC) and as a qualifier to the Paris 2024 Summer Olympics. 

To download the full match schedule, click here.

Eight teams are slated to participate in the tournament, including the United States and Canada. The reigning FIFA Women's World Cup Champions and the 2020 Tokyo Olympics Gold Medal winners qualified by virtue of being the top two ranked teams in Concacaf and have been joined by Mexico, Costa Rica, Jamaica, Panama, Haiti, and Trinidad and Tobago. Those six teams secured their tickets to the 2022 CWC thanks to first-place finishes in their respective groups during the 2022 Concacaf W Qualifying (CWQ).

The current CWC champion is the United States (second consecutive title and eighth overall) after they defeated Canada 2-0 in the 2018 Final, in Frisco, Texas.