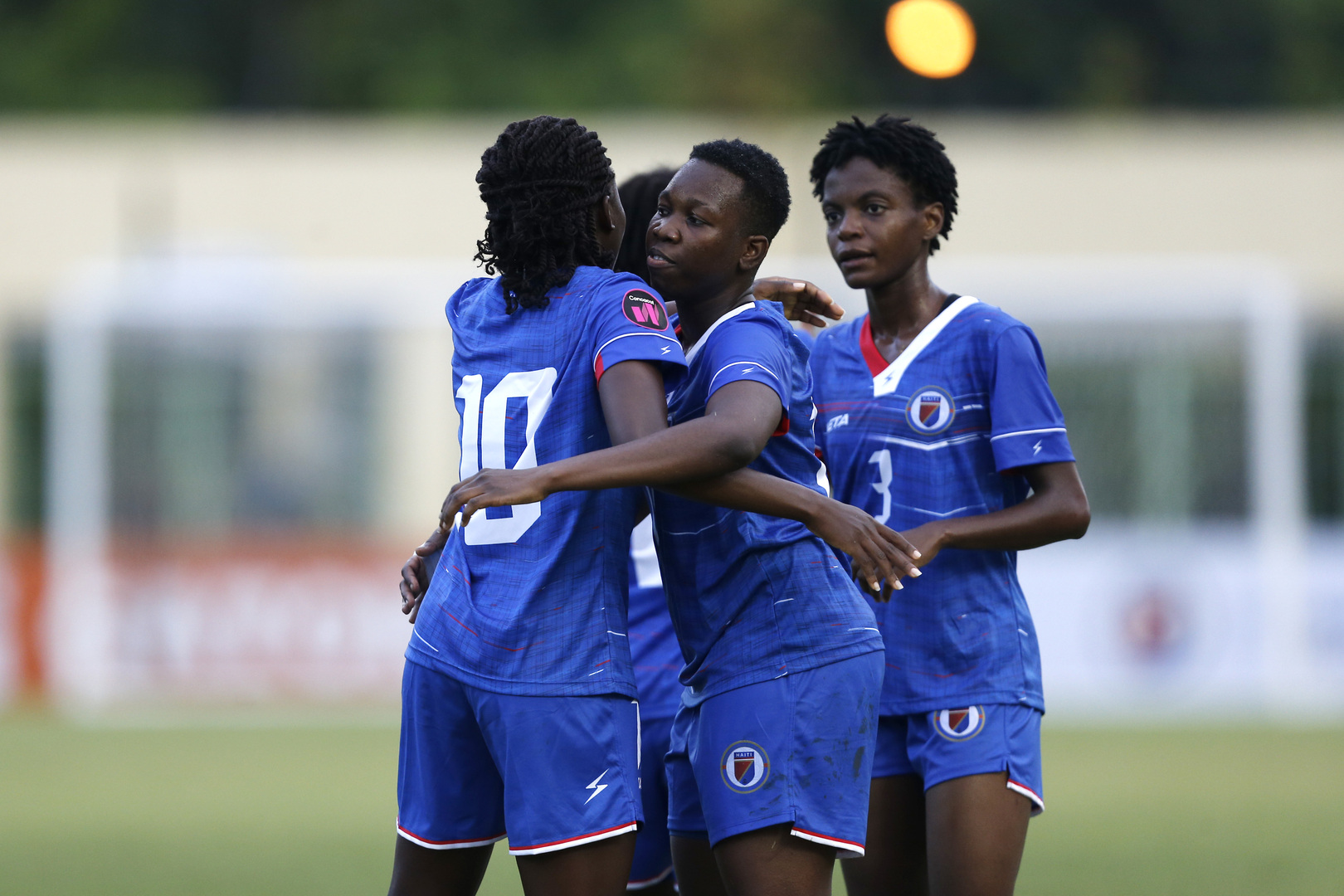 Haiti, Mexico among teams clinching W Championship berths
Published on
/ Updated on at
MIAMI, Florida – The field for the eight-team 2022 Concacaf W Championship is now set, as Mexico, Haiti, Jamaica, Trinidad and Tobago, Costa Rica and Panama clinched the final six berths following the results of the final matchday of W Qualifying on Tuesday.
Mexico are winners of Group A after downing Puerto Rico 6-0 at the Estadio Nemesio Diez in Toluca, Mexico. Jacqueline Ovalle's brace (13', 51'), along with goals from Katty Martinez (15'), Myra Delgadillo (19'), Diana Ordonez (55') and Maria Sanchez (90+1') sealed the win for El Tricolor.
In the day's other game in Group A, Suriname claimed a 5-1 win over Antigua and Barbuda at the Frank Essen Stadion in Paramaribo, Suriname. Van Ommeren Ravelcheny (27'), Andaya Lantveld (34'), Katoucha Patra (36'), Rowena Ondaan (68') and Pique Naomi (90+4') scored for the hosts, while Kai Jacobs (84') tallied Antigua and Barbuda's lone goal.
Costa Rica emerged as the top team in Group B after defeating Guatemala 5-0 at the Estadio Nacional in San Jose. Priscila Chinchilla (5', 64') scored a pair of goals and was joined on the scoresheet by Maria Salas (29'), Cristin Granados (52') and Shirley Cruz (85').
Saint Kitts and Nevis finished their qualifying campaign in Group B with a third straight win in a 6-0 final versus US Virgin Islands at Warner Park Football Stadium in Basseterre, Saint Kitts and Nevis. Phoenetia Browne bagged a brace (77', 90+3'), while Ellie Stokes (21'), Cloey Uddenberg (51'), Caroline Springer (57') and Jahzara Claxton (65') added scores.
Jamaica gave the home fans at the Sabina Park Stadium in Kingston a smile, as the Reggae Girlz captured Group C with a 5-1 win over Dominican Republic. Khadija Shaw (79', 90+3') led the way with a brace, while Jody Brown (16'), Trudi Carter (40') and Tiffany Cameron (60') all added goals. Kathrynn Gonzalez (24') scored for the Dominican Republic.
Bermuda also ended Group C on a positive note thanks to a 6-0 win over Grenada at the Dame Flora Duffy National Sports Centre in Hamilton, Bermuda. Leilanni Nesbeth (10', 56', 73') notched a hat trick, Nia Christopher (23', 88') had a brace and Victoria Davis (78') added a goal for the hosts.
Panama clinched their spot in the W Championship by virtue of their 2-0 victory against El Salvador at the Estadio Rommel Fernandez in Panama City to clinch Group D. Second half scores from Yerenis De Leon (65') and Karla Riley (78') lifted the Canaleras to the three points.
Belize were 3-0 winners over Barbados to wrap up their play in Group D at the Estadio Cuscatlan in San Salvador, El Salvador. Jayda Brown (55', 90+4') had a brace, while Shendra Casimiro (38') also got on the scoresheet.
Haiti continued to flex their scoring muscles and posted a 6-0 win versus Cuba to claim Group E at the Estadio Olimpico Felix Sanchez in Santo Domingo, Dominican Republic. Roselord Borgella (53', 74') finished as qualifying's joint-top scorer with 11 goals thanks to a brace, while Nerilia Mondesir (23'), Melchie Dumornay (64'), Batcheba Louis (72') and a Yarisleidy Mena (88') own goal paved the way.
Honduras completed qualifying in Group E with a 2-1 triumph over Saint Vincent and the Grenadines at the Estadio Francisco Morazan in San Pedro Sula, Honduras. Goals from Honduras players Kendra Haylock (26') and Gabriela Garcia (53') sandwiched Denella Creese's (45+2') score for Vincy Heat.
A late score from Lauryn Hutchinson earned Trinidad and Tobago a dramatic 2-2 draw with Guyana to take top spot in Group F at Dwight Yorke Stadium in Bacolet, Trinidad and Tobago. It looked like a brace from Guyana's Sydney Cummings (45', 82') would outweigh Asha James' goal (48'), but Hutchinson's score in the 90' delivered the W Championship-clinching draw for Trinidad and Tobago.
Nicaragua also enjoyed a winning finish to Group F by defeating Dominica 10-0 at the Estadio Nacional de Futbol in Managua. W Qualifying joint-top scorer Yessenia Flores (11 goals) scored four goals (2', 19', 31', 53'), while Lilieth Rivera (14'), Jaclyn Gilday (25'), Reyna Hernandez (49'), Nathaly Silva (58'), Yorcelly Humphreys (71') and Martha Silva (87') also chipped in with scores.