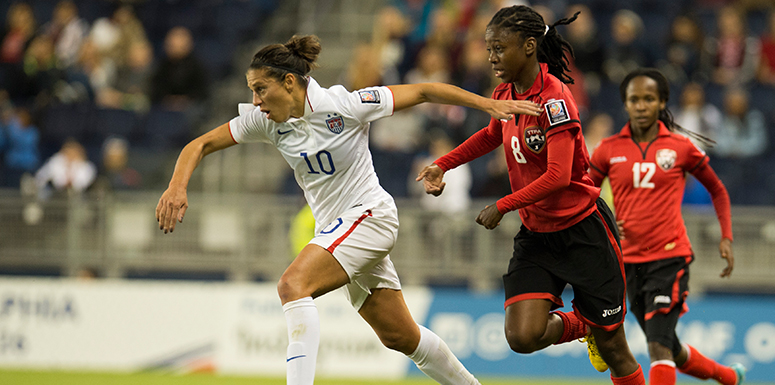 U.S. women to host Trinidad & Tobago in Hawaii
Published on
/ Updated on at
Action from the CONCACAF Women's Championship game between the United States (white jersey) and Trinidad & Tobago on October 15, 2014, in Kansas City, Kansas. (Photo: Mexsport)
CHICAGO – The United States women's national team will welcome Trinidad & Tobago to Honolulu, Hawaii, for an international friendly on December 6, it was announced Thursday.
It will be played at Aloha Stadium, marking the first international match ever to be hosted by U.S. Soccer in the state.
"When I took this job I was told of the importance of having a wide footprint in terms of where we bring the team to play and this first-ever game in Hawaii certainly stays true to that goal," said U.S. head coach Jill Ellis. "We always enjoy going to new markets and giving fans across the country, and in December across the Pacific Ocean, a chance to see the team play.
"I know the players and staff are very excited about going to Hawaii and we are looking forward to the experience of being on Oahu and playing this historic match against T&T at Aloha Stadium."
The current CONCACAF and World Cup champion has played T&T eight times, most recently a 1-0 victory during the 2014 CONCACAF Women's Championship. Abby Wambach scored the game's only goal in the 54th minute. Five of the meetings between them have been in CONCACAF-qualifying competitions.
The sides will also meet on December 10 at a venue to be announced.