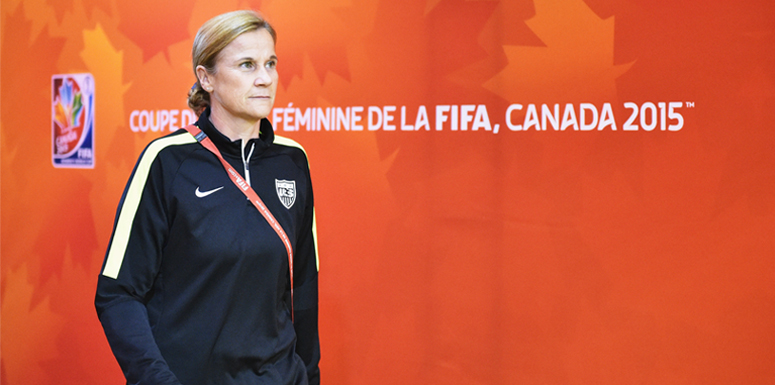 U.S. extends FWWC-winning Ellis' contract
Published on
/ Updated on at
Head coach Jill Ellis (pictured) led the USA to the 2015 FIFA Women's World Cup title. (Photo: FIFA via Getty Images)
CHICAGO – Head coach Jill Ellis was rewarded with a multi-year contract extension for leading the United States to the 2015 FIFA Women's World Cup (FWWC) title, U.S. Soccer announced Wednesday.
Last month, the U.S. became the first country to win the FWWC three times, recording a 6W-1D-0L mark and defeating Japan in the final, 5-2.
"When we hired Jill, we all knew the great challenge that was ahead of her and the team," said U.S. Soccer President Sunil Gulati. "She met that challenge with tremendous passion and knowledge to win what was perhaps the most difficult Women's World Cup tournament in history. As we look towards the Rio Olympics and build towards the 2019 World Cup in France, we think Jill is the ideal person to lead the next generation of the Women's National Team."
The 48-year-old Ellis was handed the managerial reins on May 16, 2014, with five months to prepare for the CONCACAF Women's Championship, which doubled as the region's World Cup Qualifying competition. The Americans defeated Mexico 3-0 in the semifinals of the confederation event to secure a place at Canada 2015 and then went on to earn a 6-0 win over Costa Rica in the final.
At the World Cup, Ellis navigated the team through what was considered the most difficult of the six groups, finishing atop the "Group of Death" before winning three knockout-round games by shutout to reach the final. 
Ellis has compiled a 29W-9D-2L record, which includes two stints as interim head coach (2012, 2014).
"To watch our players achieve their dreams and continue to inspire fans across the country and the world was one of the most satisfying experiences of my coaching career," Ellis said. "Nothing is ever easy, and everything in this game is always earned, but I sincerely appreciate the opportunity to continue to work with these great players with the tremendous resources that U.S. Soccer dedicates to the women's game. We had a really exciting year, and we are looking forward to more exciting times ahead." 
The U.S. kicks off a 10-match Victory Tour on August 16, when it faces Costa Rica at Heinz Field in Pittsburgh, Pennsylvania.