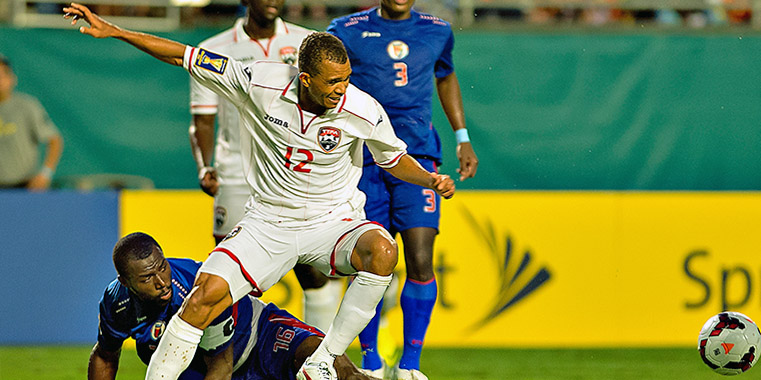 Trinidad adds Colombia to June schedule
Published on
/ Updated on at
Action from the CONCACAF Gold Cup game between Trinidad & Tobgao (white jersey) and Haiti on July 11, 2013, in Miami Gardens, Florida. (Photo: Mexsport)
PORT OF SPAIN, Trinidad & Tobago – Trinidad & Tobago will face Colombia in a pre-World Cup on June 1 in Buenos Aires, Argentina, the Trinidad & Tobago Football Association (TTFA) announced Thursday.
It will be the fourth all-time encounter between the sides and the first since the Colombians posted a 2-0 win in the 2005 CONCACAF Gold Cup.
The Caribbean power will also take-on host Argentina in La Plata on June 4 and Iran, four days later, in Sao Paulo, Brazil.
TTFA President Raymond Tim Kee expressed delight that his organization was able to put together a schedule with such high-profile opposition. 
"This is by every means our World Cup group and I think it's speaks volumes of our ability as a country and as an association to line up matches of this caliber against three world class opponents," Tim Kee told TTFA Media.
According to TTFA General Secretary Sheldon Phillips, the matches will be used to prepare for regional competition.
"We want to give our national teams and players the best opportunities possible when it comes to preparations and experience," Phillips expressed.  "We think it says something about where we are heading with these teams giving us the opportunity to rub shoulders and to take them on over 90 minutes just prior to the World Cup.
"Some may see it as a risk with us playing three World Cup teams but we believe ideally this is what we need in terms of quality opponents for our preparations."
On September 8, 1999, in a friendly played in Miami, Trinidad topped Colombia, 4-3, on two goals by Stern John.