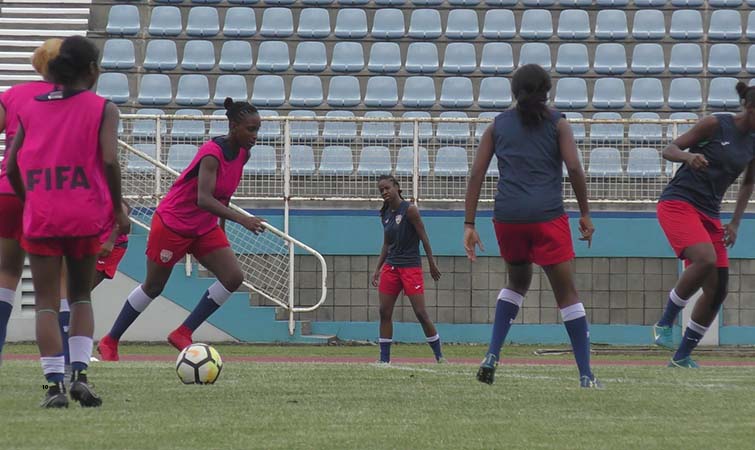 T&T Women look to make winning start to CFU Women's Challenge Series
Published on
/ Updated on at
COUVA.- Trinidad and Tobago will be looking to begin their Caribbean Football Union Women's Challenge Series campaign on a winning note when they host Suriname from 6:30pm in the second game of a double header at the Ato Boldon Stadium, Couva on Wednesday.

T&T are the reining Caribbean champions after defeating Haiti 3-0 in the 2014 final in Port of Spain, advancing to the CONCACAF Championship where they eventually missed out on qualification for the 2015 FIFA Women's World Cup by way of a defeat to Ecuador in the Inter-Contintental playoff.
Now, the Women Warriors are hoping to go a step further and will be using the CFU Challenge Series as a final warm up for the CONCACAF Caribbean qualifiers which begin in May.

The T&T team had their final session at the venue on Tuesday and head coach Jamaal Shabazz said that he was focusing on the competition solely from the perspective of it being the idea preparation for T&T's CONCACAF World Cup qualifiers.

"We are excited for the tournament because it gives us the ideal dress rehearsal for our World Cup qualifiers in May," said Shabazz. "Knowing that in May we have to face Caribbean opponents, it really is the ideal warm up settings for us."
Regarding his preparation for the opener against Suriname, he added, "We are trying to do a little more work on how we get behind the defence. I'm pretty comfortable in how we operate in terms of winning the ball back and being compact. But now the transition to penetrate, to get behind the defence is causing some concern and this is what we working on to hopefully get it right tomorrow."
On the composition of the squad he seemed pretty happy.
"This is really a good experiment for us. We have under 17 kids, under 20s, old veteran seniors and just the other day seniors so it's a tremendous blend for us. They are fitting in well with each other. We have some players in the programme since 2000 and we have some who just came into the programme. To me it's just what the doctor ordered.
Shabazz said he felt the players understood how important it would be to achieve winning results with solid performances in this competition.
"I hope to (get the desired results). I have every confidence in their commitment. I think they have the importance of this tournament to the overall women's programme. Trinidad and Tobago and Jamaica are no longer the powerhouses that we used to be in women's football in the Caribbean," he added.
The Team is captained by veteran midfielder from the 2014 squad Tasha St Louis and includes the likes of Mariah Shade, Ayana Russell and Janine Francois who were all part of the team that captured the Caribbean title four years ago