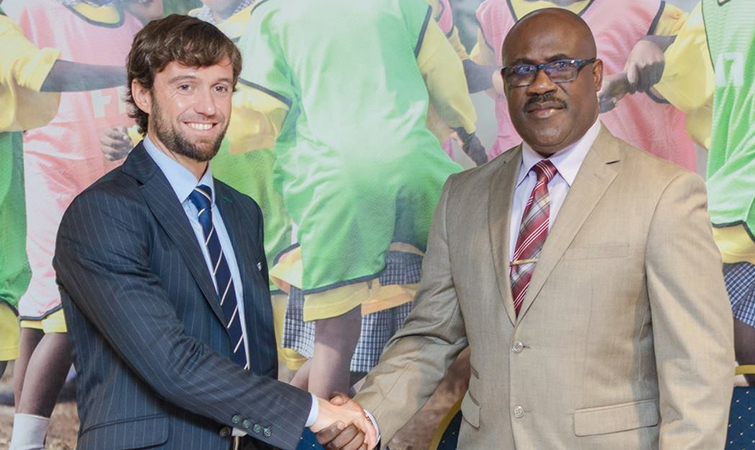 Jamaica welcomes FIFA's Technical Exchange Program
Published on
/ Updated on at
Kingston, Jamaica - Jamaica has welcomed FIFA's Technical Exchange Program, embracing the grassroots development activation at a launch at the Jamaica Pegasus Hotel in Kingston on Monday.
Jamaica Football Federation (JFF) general secretary, Dalton Wint, said his country's "doors are always open" to any program aimed at growing the game on the island.
"I want to thank FIFA for choosing Jamaica to host this exchange program. Jamaica's doors are always open to facilitate any activity which we think will advance the beautiful game that we love," he said.
Wint expressed confidence that the FIFA initiative, which a pilot project, will flourish over time.
"The JFF, in particular, is happy with the approach that this initiative introduces which is to exchange experiences and ideas on a very important area of football development.
"We are beginning with the grassroots program, but I am one hundred percent sure that this approach can extend to so many other areas that we can learn from each other and plan for future growth.
"I am sure youth development, growing the women's game, coaching development are a few of the areas that we could continue this exchange program on," he said in his addressed Monday's function.
The first-ever Technical Exchange Program targets technical directors and grassroots managers from across the Caribbean region who will share in a three-day workshop tailored for the exchange of information, ideas and technical expertise.
The participants are expected to make presentations on case studies and will be visiting a school to look at current football grassroots practices in Jamaica.
FIFA representative Jorge Garcia, who attended the Kingston launch, revealed that the project will be replicated throughout the world, following on from the Jamaica launch.
"This is quite special because this is the very last event we are organizing before the World Cup, so we are happy to be here in Jamaica. This is a pilot project so this is a new program that FIFA is developing at the moment and if it works well and it will officially begin next year," he expressed.
Concacaf Caribbean Development Manager Andre Waugh said: "Concacaf supports these initiatives led by the world governing body FIFA to grow the game from the ground up."
"Through initiatives like these, the platform is set for battle, debate and ultimately the exchange of ideas. Ideas and best practices which will snowball into developing further, the beautiful game in our region," the Jamaican added.