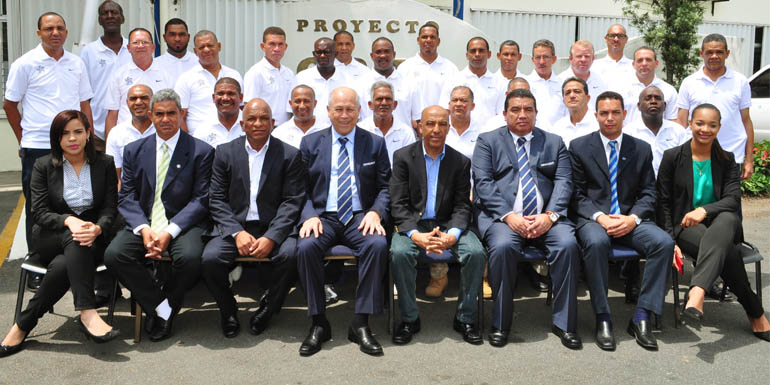 Dominican Republic holds stadium safety course
Published on
/ Updated on at
(ABOVE) Stadium safety course attendees in the Dominican Republic gather for a group photo.
SAN CRISTOBAL, Dominican Republic – The Federación Dominicana de Fútbol (FEDOFUTBOL) and the Liga Dominicana de Fútbol Banco Popular (LDF) – with the support of CONCACAF -- kicked off a stadium safety course on Thursday at the Project Goal facilities. 
The three-day program is designed to provide the instruction necessary to stage football matches in a secure environment, a central component of any effectively managed event.
In his address to the attendees, CONCACAF Director of Development Hugo Salcedo emphasized the importance of enhancing protective methods and implementing preventive measures.  He commended the leadership of the federation and the league for conducting the course, adding that the organizations can become working examples for the Caribbean region.
Victor Hugo Estrada, the Central American Football Union's director of competitions and development, will share his expertise in stadium security at the conference for league administrators, stadium managers and security staff.
Also attending the opening were Osiris Guzman (President, FEDOFUTBOL); Felix Ledesma (Director, LDF); Ramon Sanchez (Director of Development, FEDOFUTBOL); and Jose Esteban Martinez (Director, Referees Commission).