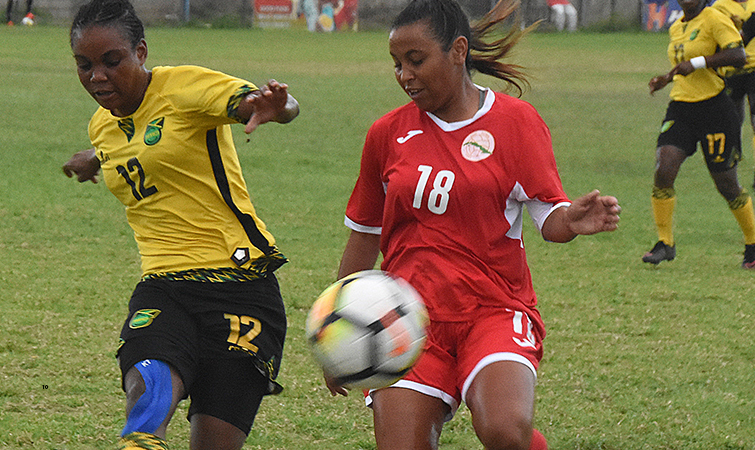 Cuba stuns Jamaica 1-0 in CFU Women's Challenge Series
Published on
/ Updated on at
Kingston, Jamaica - Jamaica's senior Reggae Girlz suffered a shock 1-0 defeat to neighbors Cuba, closing their Caribbean Football Union (CFU) Women's Challenge Series campaign in disappointing fashion at the Waterhouse Mini Stadium in the Jamaican capital of Kingston on Sunday.
The lone goal was scored by Maria Torres in 61st minute, her fourth in the three-team Group B warm-up series for the upcoming Concacaf World Cup qualifiers set to start on May 5.

Cuba finished as the top team with six points from two games, with its other victory coming in a 7-0 demolition of Barbados in the opening contest on Wednesday.

Host Jamaica ended with three points following its narrow 3-2 triumph over Barbados on Friday.

Barbados failed to earn a point.
Even though the result did not go Jamaica's way on Sunday, it had a spell of possession, plus a few handsome goal-scoring opportunities.

And in the first attack of the game, runaway Shantel Bailey looked certain to open the scoring for Jamaica, but succeeded only in shooting straight at Cuban goalkeeper Lucylena Rodriguez.

Shortly afterwards, the Girlz threatened through Kevena Reid whose header ballooned over the advancing Cuban custodian from a sniff away.

In between those offensive moves, the Cubans tried to breach the Jamaican defensive wall, but found no way through.

In one instance, goalkeeper captain Chris-Ann Chambers prevented Cuba's Rachel Ellis's from finding the mark, parrying to safety her left-footed effort from 18 yards.
Moments later, the Jamaican goalie was called upon to deny the dangerous Torres, who broke away from her markers to come face to face with Chambers. Yet again, Chambers was equal to the task.
But it was only a matter of time at this stage before the increasingly ominous Cubans picked the lock.

And that moment came when Lilian Sandoval forced Chambers to save with her initial strike, but unfortunately the Jamaican goalkeeper could only manage to steer the ball into the path of a careening Torres, who slammed home from inside the 18-yard box.
The Turks and Caicos Islands, which was to contest Group B, withdrew from the tournament.
Group A: St. Kitts and Nevis, St. Vincent and Grenadines, Dominica and St. Lucia
Group B: Jamaica, Cuba, Barbados
Group C: Haiti, Martinique, USVI, and Dominican Republic
Group D: Antigua and Barbuda, Guadeloupe, Curacao and Martinique**
Group E: Trinidad and Tobago, Guyana, Suriname and Grenada**
(**Groups D & E will play April 23-30)