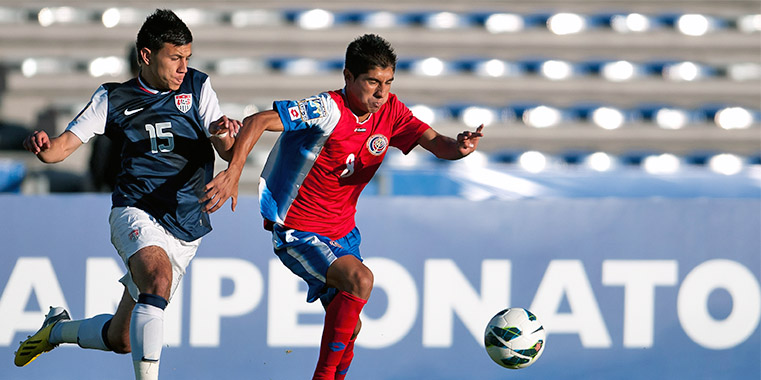 Costa Rica to open under-21 camp Monday
Published on
/ Updated on at
Luis Sequeira (red jersey) was called up to the Costa Rica under-21 team for a training camp that opens on , September 22, 2014, in San Rafael de Alajuela. (Photo: Mexsport)
SAN JOSE, Costa Rica – Head coach Paulo Cesar Wanchope has extended invitations to 23 players Friday for an under-21 training camp that will mark the start preparations for 22nd Central American & Caribbean Games. 
The competition, which will be held November 14-30, 2014, in Veracruz, Mexico, is expected to play a significant role in Wanchope's planning for Olympic Qualifying.
"We want to establish a group in which the boys will be integrated and go form a team that will compete later," said Wanchope, who guided the senior national team to the Central American Cup title earlier in the month.  "This first training camp is basically to observe players, although we will begin to work the offensive and defensive line, so allow us to create a base to face the competition that we will have in November."
Wanchope said that one of his projects is to have the national team and the Olympic side work in parallel.
"In the Central American Cup, we used a player who will be in the Olympic qualifying process such as David Ramírez," noted the 38-year-old.  "So if any selected have the possibility and sample conditions they could have the opportunity to be in one of the national team's friendlies."
The camp will open on Monday at the Project Goal facilities in San Rafael de Alajuela.
COSTA RICA UNDER-21 ROSTER
(Training camp starting on September 22, 2014)
GOALKEEPERS: Carlos Dittel (Saprissa de Corazón), Jorge Jara (Saprissa de Corazón), Jairo Monge (Limón FC), Darryll Parker (Uruguay)
DEFENDERS: Giancarlo Agüero (Alajuelense), Alvin Bennett (Limón FC), Josimar Clark (Limón), Bryan Espinoza (Jaco Rays),  William Fernández (Cartaginés), Steve Garita (Alajuelense), José Sosa (Uruguay)
MIDFIELDERS: Kenneth Cerdas (Alajuela Junior), Christian Chavez (San Carlos), Kenneth Dixon (Santos), Dylan Flores (Uruguay), Randall Leal (Belén), Ronald Matarrita (Alajuelense), Raymond Salas (Santos), Ulises Segura (Uruguay de Coronado), Luis Sequeira (Alajuelense)
FORWARDS: James Hudson (Limón), Jehudy Pizarro (Belén), Iván Ramírez (Santos)