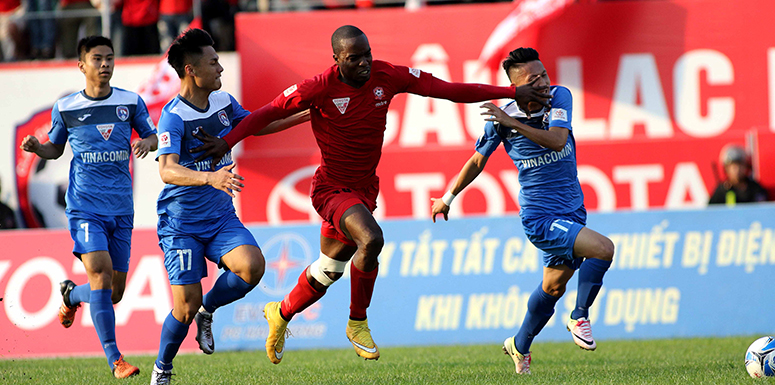 CONCACAF Q&A: Errol Stevens (Hai Phong & Jamaica)
Published on
/ Updated on at
Jamaica's Errol Stevens (red jersey) has enjoyed a successful club career in Asia. 
Errol Stevens is a player experiencing a renaissance in his footballing career. A late bloomer, the 30-year-old is one of CONCACAF's outstanding prospects in Asia, averaging a goal every two appearances for Vietnam's Hai Phong. He also played in the 2008/09 Scotiabank CONCACAF Champions League for Harbour View. The Jamaica international, who earned the last of his five-career caps at Korea Republic in 2015, took some time to speak to CONCACAF.com about his career and future plans.
How old were you when you first started to play football?
I was 12-years-old when I first started to play for my high school team Greater Portmore High. Before that I only played around for fun in the streets with my friends
Growing up who was your footballing hero?
Growing up my first idol was Gabriel Batistuta of Argentina. He was my childhood idol. Seeing him score a hat-trick against my country in the 1998 World Cup was difficult to take to be honest though.
You started out your career as a 19-year-old at Harbour View. How key was Harbour View in your development as a footballer?
I can say that I learnt to act like a professional, not just playing football, but Harbour View gives you that professional environment for training that not all clubs in Jamaica have and that helped me a lot to settle in easier while overseas.
You earned your first cap for Jamaica in 2011 against Colombia. What was it like making your international debut?
To have played for Jamaica was my dream come true. To this date, that's my biggest achievement. I set a goal and I accomplished it. Also, to have played against Radamel Falcao and James Rodriguez from Real Madrid, and other stars like those, are great memories.
In May 2012, you helped Jamaica to a 1-0 win over Guyana with an assist. You also created eight chances in the second half. Was that match a turning point in your career?
Yes, that game against Guyana put me on the map for many reasons. It was my first national team game on Jamaican soil, so I got to show everyone what Errol Stevens could do and it also earned me a place in the 2014 World Cup campaign team. After that, I got a pro deal overseas in Thailand.
How would you summarize your experience in Thailand with Saraburi FC, where you scored 16 goals in 40 games?
To summarize, Thailand is not easy. I must say, however, it was an eye opener for me in how professional football was and the areas I can improve on. I believe young players should explore Thailand as an opportunity to progress their career as it is an excellent first step. 
You are now in Vietnam, where you average a goal every other game. How has playing in Vietnam been for you and your career?
Vietnam has changed my life completely. I'm married and I have a lovely baby boy (Lionel). God is good. My dream was to play for Manchester United, but God had other plans for me, so I'm just following the path already laid out for me. I'm truly grateful to be able to take care of my family. I am up there with the top goal scorers in the league. I have done well for my team, so my career is on the up and up for sure.
What are your goals for 2017?
My honest goal is to finish 2017 the same as the ones before…with many goals. This is my third year in Hai Phong and I feel I am getting in the grove of things. However, I also have interest for me from Malaysia, MLS and South Korea, so I do have options on the table.
For those who want to play football professionally, what advice do you have for them?
My advice is to be confident in your talent, work hard and try to improve every day. It is also important to trust in God's time as football is full of ups and downs. And, finally, never give up. I'm at a place now where I have been at that crossroads to give up many times in the past, but I kept the faith and it's been worth it all.
Outside of football, what do you like to do for fun?
For fun, I'm a big reader and spending time with my wife and son. We like to travel and visit new places.
Which team or teams do you support at the club level and internationally?
I am a Manchester United and Barcelona fan, and, internationally, Brazil.