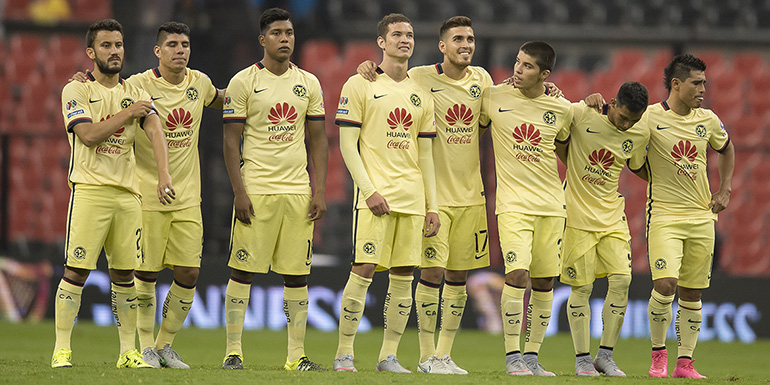 Club America relies on depth with busy start
Published on
/ Updated on at
Players from Club America (pictured) will have plenty of opportunities to contribute to the club's success over the next few months. (Photo: Mexsport)
MEXICO CITY -- Scotiabank CONCACAF Champions League (SCCL) holder Club America will begin defense of its title on August 5, when it welcomes Honduras' Motagua to the Estadio Azteca.
New head coach Ignacio Ambriz has hit the ground running with his team playing a string of high-profile friendlies against clubs such as Manchester United, while opening the 2015 Liga MX Apertura last weekend on the road with a 4-2 loss to Puebla.
On Tuesday, the Mexican giant fell at home to Portugal's Benfica on penalty kicks (4-3) after a scoreless draw in the International Champions Cup. With a busy schedule ahead, the match gave Ambriz a chance to gauge what youngsters Bryan Colula (defender, 19), Adrian Marin (midfielder, 21) and Carlos Rosel (midfielder, 19) might be able to offer on the continental stage.
He'll be hoping that one or more of them can equal the impressive exploits of Martin Zuñiga, who was selected as the recipient of 2014/15 Scotiabank Bright Future Award, an honor given to the SCCL's best young player. As a 22-year-old, he netted five goals in seven tournament outings.
"They are going to give a lot of dynamism to the team," said Ambriz, winner of the 1994 CONCACAF Cup Winners' Cup as a player with Necaxa. "They are hungry and want to win themselves a spot on the team. I am going to take them into account and there are plenty of matches."
Ambriz is also looking for an appropriate response in domestic play after the setback at Puebla, a team that barely avoided relegation last season. The Aguilas host Atlas on Saturday.
"It's urgent, but it's also urgent that we play better, that we have a good game," the 50-year-old remarked, when asked about the match's importance. "We need to be organized and put out more intensity and that is how we can win the match against Atlas.
"We need to win because we need to get ourselves into the upper half of the table."