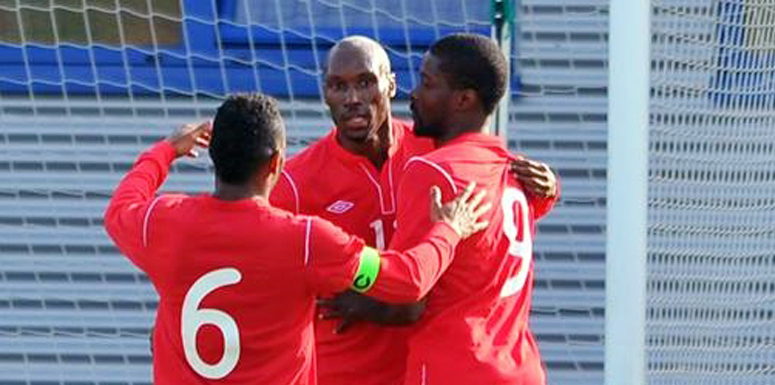 Canada draws with Bulgaria on Hutchinson penalty
Published on
/ Updated on at
Canada (pictured) celebrates after scoring against Bulgaria in a friendly on May 23, 2014, in Ritzing, Austria. (Photo courtesy of the Bulgarian Football Union)
RITZING, Austria – Canada bounced back from conceding an early goal to register a 1-1 draw with Bulgaria in an international friendly on Friday at the Sonnenseestation.
Andrey Galabinov gave the Bulgarians a 1-0 lead in the 18th minute, but veteran Atiba Hutchinson leveled from the penalty spot just 10 minutes later.
The Canadians nearly struck first, when Randy Edwini-Bonsu's attempt off a feed from Hutchinson was saved by Bulgarian goalkeeper Vladislav Stoyanov.
Hutchinson netted Canada's first goal in 10 games after Tosaint Ricketts drew a penalty off a corner kick.  The 31-year-old calmly stepped up and went to Stoyanov's left for his fourth goal in 63 appearances.
As the first half wore on, Stoyanov was called upon to make additional stops, thwarting Simeon Jackson Ricketts and Edwini-Bonsu.
Bulgaria created the more dangerous chances in the second half by regularly going wide, but the Canadians defended the numerous crosses well.
Next up for Canada is another friendly against Moldova on May 27 in Mauer, Austria.